Francesco e Valeria (@Acroseeds)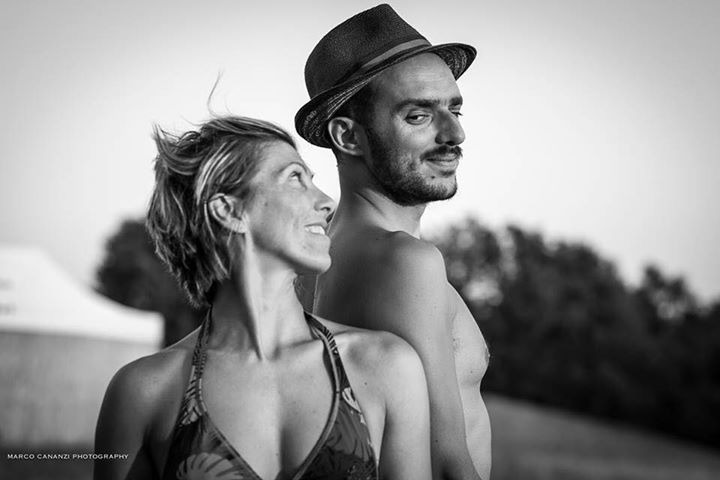 Valeria e Francesco Semino, aka Acroseeds, praticano insieme da quasi 10 anni. Si sono formati con le principali scuole internazionali di Acroyoga e si occupano di formazione insegnanti dal 2016. Entrambi certificati Immersion teachers Acroyoga International e Acroyoga Montreal teachers livello 2, trasmettono con passione gli insegnamenti ricevuti dai loro coach: Jason Nemer, Jill Campbell, Heidi Blais, Eugene Poku, Jessica Goldberg, Nico Douwes, the Weis family, Mimi, Jason and Chelsey Magness e molti altri. Francesco è l'anima acrobatica e circense, ha iniziato il suo percorso con Paolo dei Giudici a Milano, si è certificato Solar Immersion AYI e Partner Acrobatics Teacher. Handstands e mano mano, movimento e gioco sono le sue specialità. Valeria, dalla scoperta della saggezza del corpo, si è dedicata ai vari rami dello Yoga, meditazione, formazione e alla pratica di Acroyoga, principalmente dal punto di vista del flyer. Amano unire controllo, tenuta, stabilità e forza a morbidezza e leggerezza. Insieme ai due bimbi, Giacomo ed Elia, viaggiano e condividono la loro pratica e insieme uno stile di vita, un furgone e tanti sogni che cercano di realizzare…nel tentativo di vivere con semplicità gli insegnamenti di metta, karuna, mudita e upekkha.
Luigi e Francesca (@sicilyacro)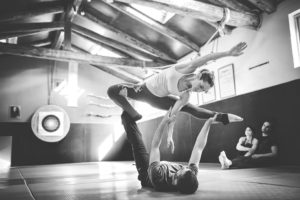 Francesca e Luigi, sin da piccoli curiosi esploratori del movimento, intraprendono presto lo studio di discipline corporee come la danza (lei) ed il Taiji Chuan (lui). Coltivano l'amore per alcune delle qualità che, anni dopo, cercheranno di sviluppare nell'Acroyoga: eleganza e armonia della forma, controllo ed radicamento, equilibrio.
Si conoscono nel 2011 in un ritiro di Acroyoga e in Thailandia nel 2018 diventano insegnanti certificati Partner Acrobatics. Precedentemente Luigi pratica ed insegna Taiji Chuan, Qi Gong e la MPA (meditazione profonda e autoconoscenza), condividendola con i suoi allievi e amici. La sua formazione si arricchisce con lo studio di discipline del benessere quali il Massaggio Tradizionale Thailandese e Cinese (tuinà) di cui diventa operatore certificato. Francesca si dedica all'insegnamento della danza classica per diversi anni e intraprende gli studi che la porteranno a diventare una psicologa. E' convinta che la pratica dell'acro yoga non riguardi solo abilità corporee ma sia un'opportunità di crescita personale. Nella loro pratica ricercano il perfetto equilibrio tra morbidezza e forza, tra fluidità e tenuta. Nella didattica danno la stessa importanza alla tecnica, al divertimento ed alla collaborazione ed amano focalizzare la loro attenzione sui piccoli dettagli che rendono la pratica il più accessibile possibile. Il piacere di far crescere la Comunità Acroyogica e di garantire sempre nuove e valide opportunità di formazione li ha spinti ad organizzare l' "Acrobatic Yoga Sicily Convention", appuntamento estivo che ospita insegnanti di calibro nazionale ed internazionale.