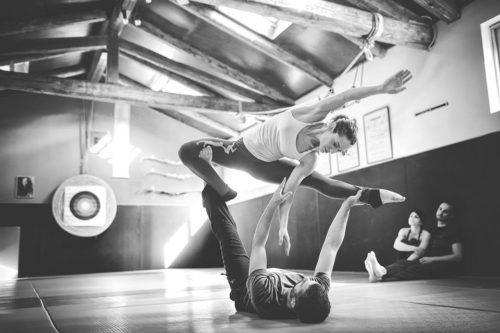 Francesca and Luigi, curious explorers of movement since childhood, soon started studying phisical disciplines such as dance (she) and Taiji Chuan (he). In their educational pathway the two of them cultivated their love for the elegance and harmony of shape, control and rooting, the balance in movement, qualities that, years later, they will develop in Acroyoga.
They met 7 years ago in an Acroyoga retreat. Since then they began their journey in search of different types of training until they landed in Thailand where they became Partner Acrobatics certified teachers. Luigi practiced for several years Taiji Chuan, Qi Gong and MPA (deep meditation and self-knowledge), sharing it with his students and friends. His training is enriched with the study of wellness disciplines such as Thai and Chinese Traditional Massage (tuinà) of which he became a certified operator. Francesca taught classical dance and she is a psychologist. She is convinced that the practice of Acroyoga is not only about body skills but a great opportunity for personal growth. In their practice, Luigi and Francesca seek the perfect balance between smoothness and strength, fluidity and tightness. In teaching they give the same importance to technique, fun and collaboration and they love to focus their attention on small details to make the practice as accessible as possible. The pleasure of seeing the Acroyogica Community growing and guaranteeing valid training opportunities has led them to organize the "Acrobatic Yoga Sicily Convention", a summer event that hosts teachers of national and international caliber.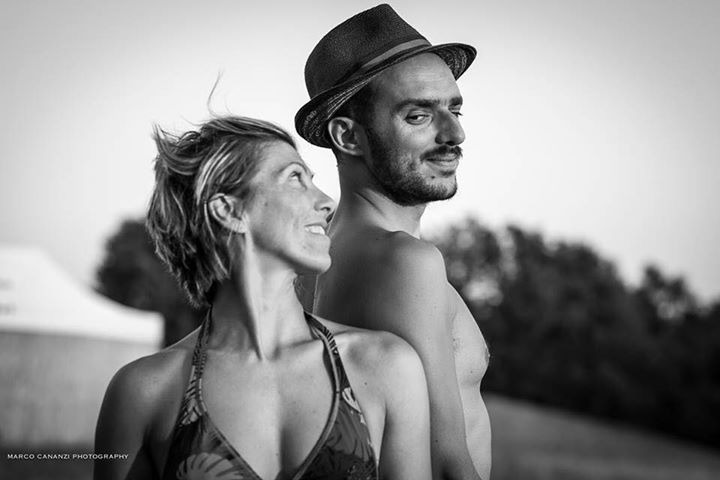 Francesco and Valeria Semino, aka Acroseeds, have been practicing together for almost 10 years. They have trained with the main international schools of Acroyoga and have been teaching since 2012. Both are certified as Acroyoga International Immersion teachers  and Acroyoga Montreal teachers level 2. They transmit with passion the teachings received from their coaches: Jason Nemer, Jill Campbell, Heidi Blais , Eugene Poku, Jessica Goldberg, Nico Douwes, the Weis family, Mimi, Jason and Chelsey Magness and many others. Francesco is the acrobatic and circus soul, he began his career with Paolo dei Giudici in Milan, he is a certified Solar Immersion AYI and Partner Acrobatics Teacher. Handstands and hand to hand, movement and games are his specialties. Valeria, since the discovery of body wisdom, has dedicated herself to the various branches of Yoga, meditation, training and Acroyoga practice, mainly from the flyer's point of view. She loves to combine control, tightness and stability with smoothness and lightness. Together with their two children, Giacomo and Elia, they travel and share their practice, a lifestyle, a van and many dreams that they try to achieve … in an attempt to live easily the teachings of metta, karuna, mudita and upekkha.