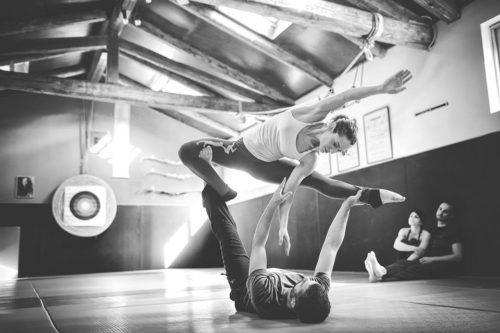 Driven by their passion for practicing and sharing, Francesca and Luigi are a couple of instructors who come from the sunny Sicily, an island in the south part of Italy. They met 9 years ago and fell in love also thanks to acro-yoga. Luigi is a Thai and Chinese massage (tuinà) therapist and thanks to his passion for ancient arts he also became a taiji Chuan teacher with more than 10 years of experience and a Meditation teacher.
Francesca comes from the dance world and she is a psychologist who loves the special way acroyoga make people connect and support each other with an open mind attitude, work on personal strengh and bounderins, experiment the "beeing in the present moment". They are "Partner Acrobatic" and "Acro Love" certfied teachers.
In their practice, they love to create fluid and elegant flows but also enjoy the energy of speed and tempo through whips, whip-pops, and Icarian games. They focus their training and teaching on small details and love to break down complicated moves with ease creating progressions to make sure success even more complex tricks. They believe that practicing acro yoga is a lucky opportunity to grow as human beings, to best express every one own potential and to contribute creating a community of people focused on sharing, supporting and enjoy life. In their way of teaching, there is always a bit of irony between them to remind that smiling is the spice of life.
They often perform, teach regular classes, organize workshops and retreats all over the world. They are co-founders of the "AcroFusion Teacher Training", an acro yoga program to become a teacher. The event they like most is the "Sicily Acro Convention", a cool acrobatic convention they organize in the summer, bringing together many national and international teachers and participants in a marvellous Natural Reserve!
They strongly believe that creating a joyfull atmosfere during the classes help people to bring out their inner sun (the warm, playful, entusiastic part of them) and to be part of a healthy community where a beautiful laugh never fails!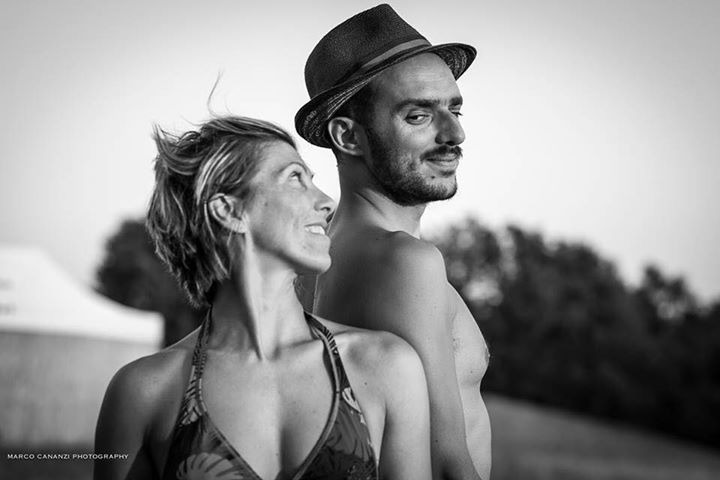 Francesco and Valeria Semino, aka Acroseeds, have been practicing together for almost 10 years. They have trained with the main international schools of Acroyoga and have been teaching since 2012. Both are certified as Acroyoga International Immersion teachers and Acroyoga Montreal teachers level 2. They transmit with passion the teachings received from their coaches: Jason Nemer, Jill Campbell, Heidi Blais , Eugene Poku, Jessica Goldberg, Nico Douwes, the Weis family, Mimi, Jason and Chelsey Magness and many others. Francesco is the acrobatic and circus soul, he began his career with Paolo dei Giudici in Milan, he is a certified Solar Immersion AYI and Partner Acrobatics Teacher. Handstands and hand to hand, movement and games are his specialties. Valeria, since the discovery of body wisdom, has dedicated herself to the various branches of Yoga, meditation, training and Acroyoga practice, mainly from the flyer's point of view. She loves to combine control, tightness and stability with smoothness and lightness. Together with their two children, Giacomo and Elia, they travel and share their practice, a lifestyle, a van and many dreams that they try to achieve … in an attempt to live easily the teachings of metta, karuna, mudita and upekkha.