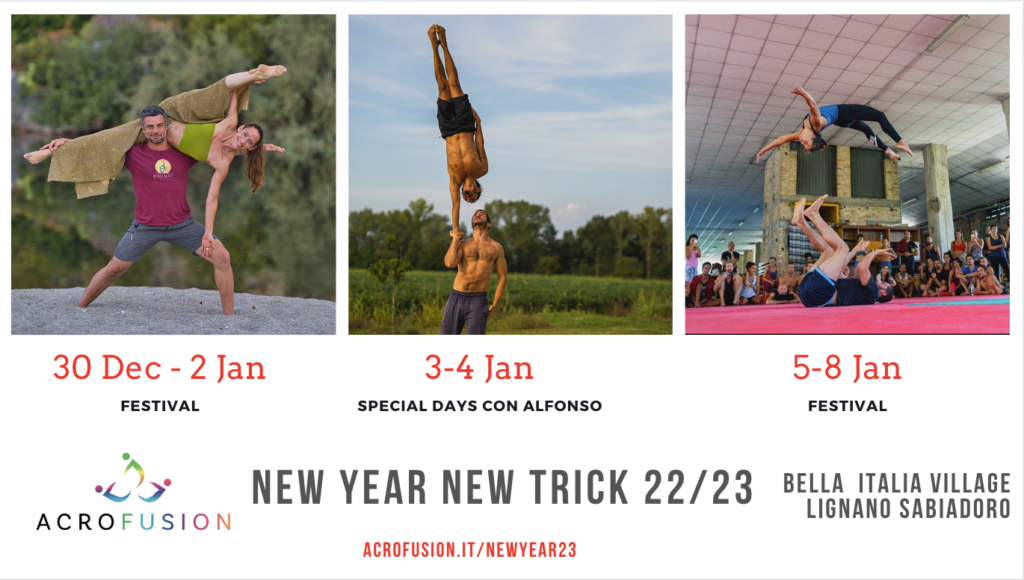 New Year New Trick Acroyoga retreat !!
***Italiano in basso***
We are back !!! New year's new trick is coming back with a longer edition!
This year at Bella Italia in Lignano Sabbiadoro with a new cool location
300sqmeters of puzzle mats!!
in front of the beach
Nice and warm swimming pool
Accommodation and food included
Festival mode on!
There will be lots of Acro, Yoga, Movement Flow, Acrobatics and other surprises
Teachers Team:

@SicilyAcro (Luigi & Fra Flow),

@Acro Seeds (Francesco & Valeria)

@Acrolinks (Cuzio e Jessica)

@AcroMoves (Lennert & Yvvonne)

@Sunshine.Acro (Paulo & Ammanda)
Teachers line up is going to be announced soon!!!
We are working on the details of the program, the main idea – to be confirmed- is to have two main blocks of festival during NYE and epiphany and one advanced session in the middle days.
Registration are open:
https://forms.gle/JhhbzfMjaUzSoK5X9
limited spots.
Focus of the New Year Retreat 2022:
Community & Connection
Fun & Games
Icarian Games
Standing Acro
Whip- Whip-pop
Acro Flow: (More fluidity)
Jedi training (improve your level)
Schedule of a day:
8.30 -9: 30 yoga / prehab / movement
9.45 – 11.15: I ° round workshops
11.30 – 13.15: II ° round workshops
13.30 – 15.00: Lunch break
15:00 – 17:00: III ° round workshops
17:00 – 18:00: Cool Activities
18:00 – 19.30: Free Jam
19.30: Dinner
Day 31 We will do the usual and phantasmagoric Talent non Talent show

In the evening from 21:00 there are optional activities such as Acro Olympic games – Acro Jam etc …
Overnight:
The place has rooms for 2 to 4 person
Food:
All the meals are inside the Bella Italia village
Where:
https://www.bellaitaliavillage.com/
INVESTMENT:
You will find it in the google form registrations: https://forms.gle/JhhbzfMjaUzSoK5X9
For more info contact us at:
info@acrofusion.it
———-ITALIANO———–
New Year New Trick Acroyoga retreat!!
Sicily Acro + @AcroSeeds = @AcroFusion
Siamo tornati con un'edizione più lunga! Quest'anno saremo a Lignano Sabbiadoro presso il villaggio Bella Italia.
Una nuova location fighissima con 300mq di tatami!!
L'idea per quest'anno, da confermare ancora, è quella di fare due weekend lunghi (capodanno ed epifania) ed in mezzo un breve intensivo avanzato ed un giorno di vacanza!
Modalità Festival on! Ci sarà tanto Acro, Yoga, Movement Flow, Acrobatica e altre sorprese
Insegnanti principali
@Sicily Acro Fusion: Luigi & Fra)
@Acro Seeds Francesco & Valeria Maggiali
@acrolinks (Cuzio & Jessica)
Il resto degli insegnanti saranno confermati a breve!
Acro Fusion Teachers:
Durante il festival retreat ci saranno workshop per tutti i livelli! Sono previsti d 3 a 5 workshop simultanei in base al numero dei partecipanti
Le registrazioni apriranno settimana prossima:
Focus del New Year Retreat 2022:
Community & Connection
Fun & Games
Acro Focus:
Jedi training (improve your level)
Acro Flow: (More fluidity)
Whip- Whip-pop
Icarian Games
Standing Acro
Orario provvisorio di una giornata:
8.30 -9:30 yoga/prehab/movement
9.45 – 11.15: I° round workshops
11.30 – 13.15: II° round workshops
13.30 – 15:00: Lunch break
15:00 – 17:00: III° round workshops
17:00 – 18:00: Cool Activities
18:00 – 19.30: Free Jam
19.30: Dinner
Giorno 31 Faremo il consueto e fantasmagorico Talent non Talent show

La sera dalle 21:00 sono previste attività opzionali come: Acro Olympic games
Acro Jam etc…
Tutti i nostri eventi e corsi sono esclusivamente per i soci-tesserati Sicily Acro a.s.d. – Bewater – E.N.D.A.S (Ente di Promozione Sportiva Nazionale)
Prezzi:
A breve tutte le opzioni
Pernottamento:
Sono previste stanze da 2 a 4 persone
Cibo:
Sarà la struttura a fornirci tutti i pasti

Dove:
https://www.bellaitaliavillage.com/
Per maggiori-info contattaci a:
info@acrofusion.it